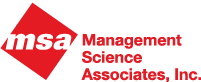 Meet with MSA at NIQ Consumer 360®
To grow your brand and stay competitive, you need to combine consumer data (the "why" and the "what") with big data (the "who" and the "how") to gain actionable insights into your target consumer.
MSA + NIQ = Unprecedented Innovation merging Consumer Purchase + Real World Population Health data to uncover new opportunities
MSA partnered with NIQ to sharpen the lens on Consumer Health + Consumer Purchase Behavior so that manufacturers can access innovative and even greater insight into consumer lifestyle & brand preference across multidimensional cohorts:
Consumer – Medical conditions pre/post disease diagnosis, Age, Household size, income, etc.
Purchase Behavior – Five years of consumer purchase data across all outlets (E-comm + brick & mortar)
Self reported Consumer Journey – emotional intelligence & consumer voice via social media data (burning needs, behaviors and motivations)
With medical conditions like diabetes, obesity and heart disease – all linked to unhealthy diets – on the rise, consumers of all ages are pursuing healthier lifestyles to avoid and/or combat health problems are an important target for manufacturers offering Better For You options.
Clients apply these learnings to elevate sustainability and diversity growth:
Drive product re-formulation, new product introduction, and package innovations
Expanded market reach & targeted growth
Brand prestige + Consumer Journey mapping
Sales forecasting for new products by product attributes (low sugar, etc.)
Competitive analysis + Predictive market modeling
Market share, fair share, and repeat rate by health concern
Submit Your Information to Receive Your FREE Report.
"Insights from the Intersection of Consumer Purchasing and Healthcare Data: Better for You Insights"
About Management Science Associates, Inc. (MSA)
Since 1963, MSA has partnered with institutional and commercial customers to identify areas in which innovative analytics and uses of data deliver incremental growth and drive efficiency.
Combining its expertise with the tools of information management, analytics, data management, software and systems technologies, MSA develops, integrates, implements and maintains products and services in various functional and vertical domains including Consumer Packaged Goods, Media, Healthcare, Pharmaceuticals, Metals and Advanced Manufacturing, Casino Gaming, Medical Cannabis, Internet Applications and Data Center/Co-location Services. MSA employs more than 500 people, working across 16 different states and world-wide. MSA has three offices in the Pittsburgh area along with offices in United Kingdom and Malaysia.
MSA helps customers put their data to work.